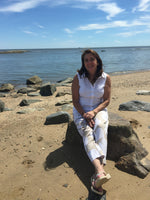 My Story
My devotion to the Blessed Mother and the Rosary has brought many Graces and Blessings to my life. My hope is when you wear one of my Rosary Bracelets, it will be your gentle reminder to pray. Prayer is what brings us closer to God. It allows us to trust in Him to guide us in times of happiness and despair. It creates peace in our lives which reminds us that with God's love, anything is possible!
My rosary bead bracelet has helped me through some of the hardest moments in my life. It reminds me to pray, and brings me comfort!

Anne E.
I LOVE my Saint Jude bracelet. The colors are beautiful; and it reminds me to never give up!

Taylor R.
My granddaughter was so proud to wear her rosary bracelet to her First Holy Communion! When I asked about sizing, Melanie was so kind and easy to work with.

Katherine S.